Goldie Double Fisting
It seems that HotKinkyJo has some more company today and she gets to fully enjoy it too. As you've seen in previous scenes, Jo has quite a plethora of fuck buddies to have fun with any time that she gets horny. Well this was the case once more and she called on one of her female buddies. The name of the new babe is Goldie and you bet that she knows how to make Jo tremble in pleasure. The setting for this scene is that Jo wants to have a massage but she ends up getting a bit more too. Of course you know what we're talking about since you know her love for getting her holes stretched out nicely with some fisting.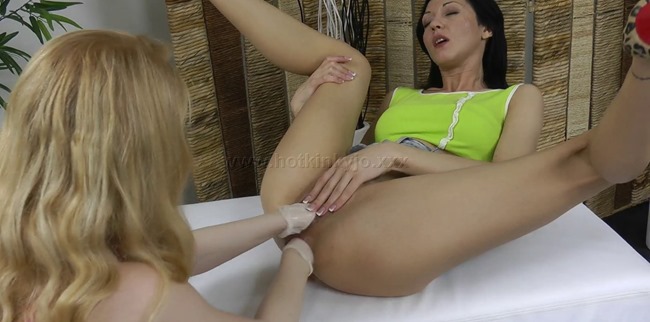 The cameras roll and Jo enters followed by Goldie and takes her spot on the little massage table. She should be getting naked shouldn't she? well her area that needs massaging is the groin area. So she lays on her back, lifts up her skirt and shows off that she was all ready since she wasn't wearing any panties at all. Take your time to see Goldie putting on some latex gloves and see her oiling her hands nicely. With her legs spread open, Jo eagerly takes her bestie's hands at the same time in her ass and pussy, and you can watch her enjoying a double fist fucking in this amazing scene here. Watch it through and come back soon for more updates! Don't forget that you can find similar videos and pics inside the www.hardtied.org.uk site so check it out and see some kinky lesbians going wet!