HotKinkyJo The Ocean Coast
Hey there guys, HotKinkyJo is back again with some more all new scenes for you to see. The brunette hottie took to the beach this time and the scene looks simply incredible. It was a nice and hot summer day and according to her, it would be a waste to just stay inside and waste time. So what better use of that aforementioned time than to go to the beach and get super naughty and kinky. Rest assured that kinkiness was on her agenda today with this outing as well and as soon as she had her mind set on the beach she started packing things. And apart from the sexy swimwear, she made sure to remember to put in her big sex toys too. She loves stuffing big tools inside her pink pussy!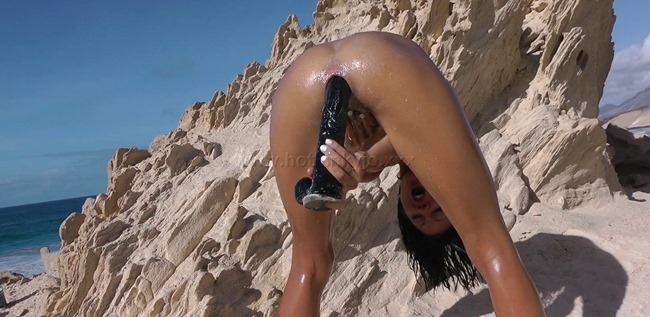 Well, the toy that hot kinky Jo packed was a nice and big black dildo. She always likes to start using it on her cunt first and then on her ass when she just needs to stretch it out as well. As soon as she reached the beach, you can see her taking off her clothes and revealing…well nothing. As in she was literally nude. It seems that she decided against her bikini anyway, since she'd be getting quite naughty all by herself. So check her out going behind some rocks and see her starting to do her thing. She warms up by fingering her cunt first and foremost. When she gets wet enough, she pulls out the big black dildo and starts to fuck herself. After that pussy workout, her ass got a good stretching too!